The BNB is the native crypto of the Binance exchange, and it is the largest cryptocurrency exchange in the world, supporting more than 1.5 million transactions per second. It was initially based on the Ethereum network, and after gaining popularity, it shifted to its own Binance Chain network.
Initially, one hundred million coins were offered in the ICO, but the current number is lower because of burning. Interestingly Binance burns coins every quarter, and they burn 1/5 of their profit to repurchase and permanently destroy the coin to control inflation.
It was mainly created for discounted trading fees in 2017. Even in 2022, users will get a 50% discount on trading fees. Users can trade, exchange, swap, and invest with BNB.
It is also used in different sectors such as travel booking, online services, finance services, and entertainment industries. Currently, it has a market cap of more than $61 billion.
At the time of ICO, it was based on ERC 20 token, and one-third of the ICO fund was used in platform development, and two-thirds were used for branding and marketing.
Analysts believe BNB has a lot of potential, so interested investors should hold the coin for the long term.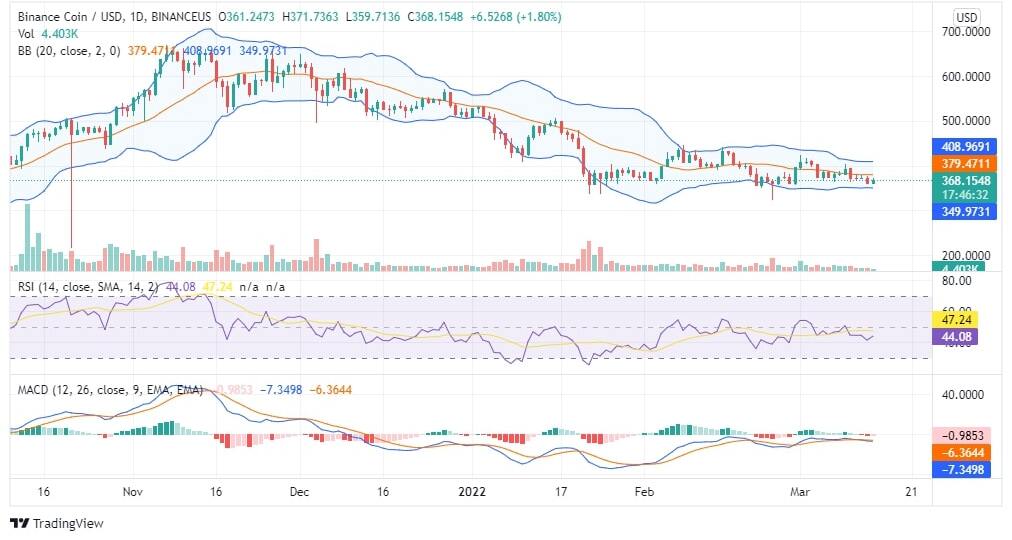 At the time of writing this post, BNB USD is trading around $369, which is the support level as seen in the above chart. If one looks at this chart closely, a sideways movement within a range of $430 and $350 can be observed.
These levels worked as support and resistance for the last four months. Indeed, the chart is not suitable for short-term investment. As per the BNB coin price prediction, traders should only invest in the coin for the long run.
To get a better understanding, let's analyze the weekly chart.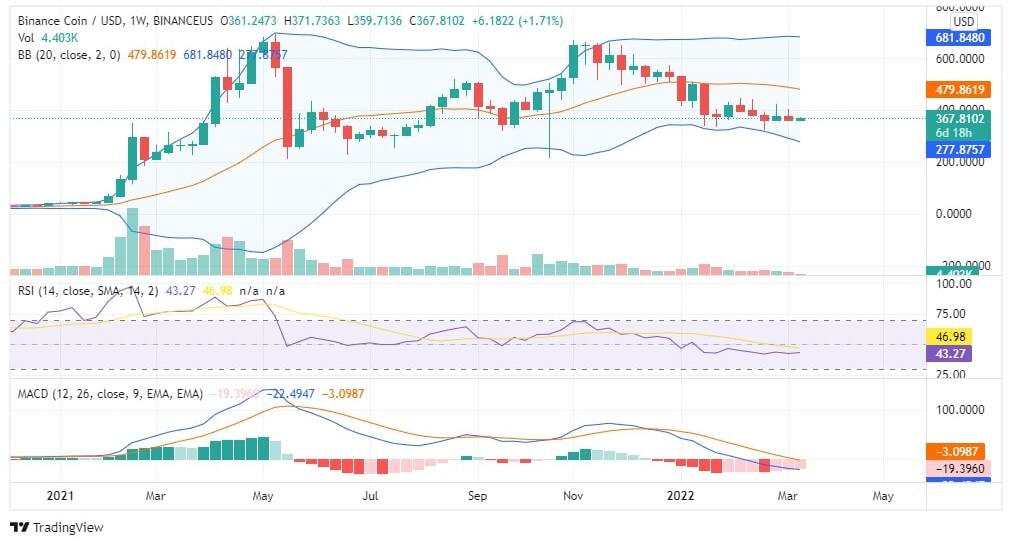 The coin is bullish as per the weekly chart because it has made higher highs and higher lows for the last year. The price has been consolidating for the last three months, which may continue throughout this year.
It is believed that $507 would be a high range target for this year with the support of $350.Indeed, BNB is a promising cryptocurrency, and it has a lot of growth potential.
Analysts and investors are very optimistic about its future- we are too. However, if you have a long-term horizon, you can invest in this coin, but it is not an ideal choice for a short-term investment.