Overview of Litecoin
Inspired by the popularity of Bitcoin as a cryptocurrency, Litecoin was introduced in 2011 as an alternative cryptocurrency that shares its key features with Bitcoin but offers faster as well as cheaper transactions. Founded by Charlie Lee in 2011, this alternative cryptocurrency started at just $4 and recently reached $410 in 2021. Ever since then, there has been quite a debate over the Litecoin price and where it will be this year. Let's know more about the price history of Litecoin, what fintech experts think about LTC prediction for 2021, and what the future has in store for Litecoin.
Price History and Technical Analysis of Litecoin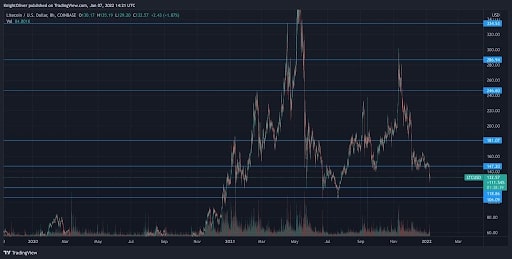 The first recorded transaction of Litecoin was on April 28, 2013, when it was worth $4.30. Moreover, it stayed under $100 in the initial years, but it was in 2017, it hit $70 and accelerated to $400 by the end of the same year. However, it recorded a dip afterward, staying just around $100 and then to $160 in mid-2019. The present price of Litecoin in the market is somewhere around $130 and has been predicted to reach higher to $230 in a year. Its highest recorded price was $412.96 in May 2021. Many technical analysts have commented that Litecoin has got a low bruise as it marked way lower than 56% of its November price, which was $300. It has been referred to as the #5 cryptocurrency for market cap, which is at $5.4 billion.
Experts Talk About Litecoin Price Prediction
Fintech experts have commented that Litecoin still has a lot of potential as a cryptocurrency and can be expected to carve a four-digit figure this year. Wallet Investor said that a long-term increase is predicted for Litecoin for the year 2026, when it can reach $603.501. An investment of 5 years can boost its revenue by 386.16%, leading to a better price of $600+. Long Forecast also seemed to predict hope for Litecoin, saying that it can cross $150 if it can hover at $110-$179 in the first half of 2022 and then $247 by the second half.
Factors Affecting Litecoin(LTC) Price Today
Various factors are affecting Litecoin price in the current scenario, such as:
Created as an alternative currency, Litecoin is preferred for day-to-day investment and trade purposes, thus making it a preferred currency. Its faster and cheap transactional rate also affects its prices in the long run.
Finite Litecoin Availability
There is only a limited amount of Litecoin available in the market, which is another impactful reason for its price. With its frequent use and preference, Litecoin's supply can reach an all-time low, thus making an unusual effect on its price.
Fluctuation in prices of Bitcoin and other cryptocurrencies
Since Litecoin is a better version of bitcoin, its prices are also affected by the rates of bitcoin and other cryptocurrencies in the market, and when they fluctuate, Litecoin prices behave similarly.
Will Litecoin Rise Further?
Litecoin has consistently worked towards achieving a better price ever since its inception. While it previously reached $400+ in 2021, it fell way down in the middle of the year but then spread its wings again in November. It has been said that bear markets have something to do with bringing its price down to profit from its fall, while many technical analysts have been hopeful about its fluctuations in 2022. In January 2022, it stayed somewhere between 120$ to 140$, which makes fintech analysts positive to see it rise further this year.
Conclusion
There has been a lot of speculation about Litecoin price prediction for the year 2022, and many hopes have been bound on it climbing up the graph to make a positive investment for everyone. This was all about its trends in terms of price and market cap and how it is hopefully predicted to make its way up the charts this year.