MANA has been known as the digital cryptocurrency of the leading virtual reality platform, Decentraland. MANA has become a way to interact with the virtual reality environment requiring a Decentraland investor to burn their MANA token holdings to generate an equal amount of LAND tokens. This LAND token can then be utilized as a purchasing currency for various digital avatars, land, and other items offered at the Decentraland marketplace.
MANA offers businesses, individuals, and interested partners a new artistic medium for entertainment. MANA holders are in complete control of how the Decentraland behaves with the freedom to propose and vote for policy updates. With prices keeping support from the 200 Days Moving average curve, the value of the MANA coin remains in the positive realm. There are 90,601 parcels of LAND measuring 256 square meters in dimension. MANA trades at a $5 billion valuation, ranking at the 30th spot in terms of market capitalization, indicating a huge potential for upscaling its valuation.
MANA Price Analysis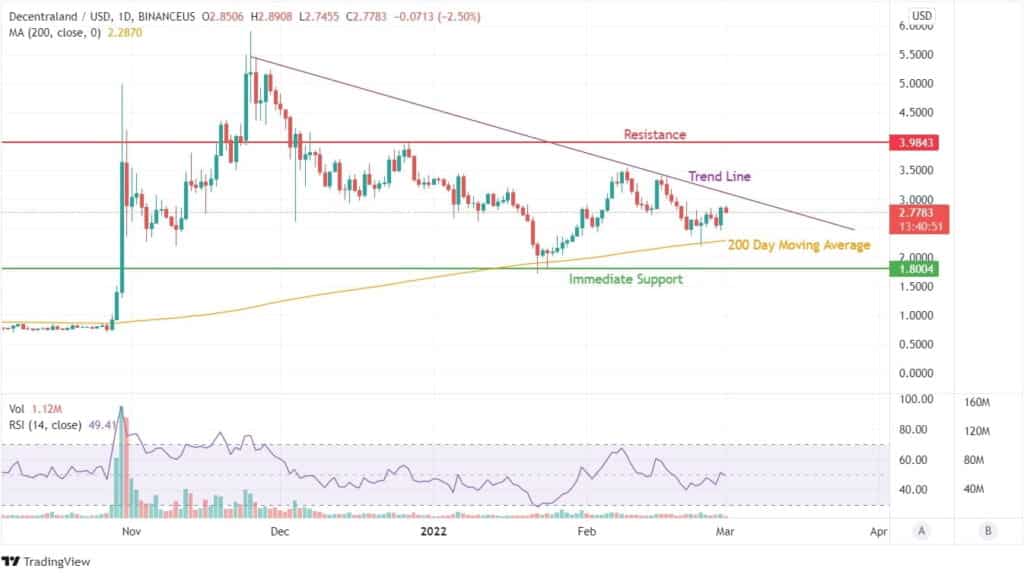 MANA token has taken a clear jump over other cryptocurrencies. MANA has offered a return of over 1300% in the last year, taking reference from the 1st March 2021 value. Taking the backup support of the 200 DMA curve for bouncing back to new highs is a highly revered indication. Although it is trading at a bigger discount since its peak value in November 2021 of $5.90, MANA is down by more than 50% of valuation. $3.5 and $4 will be tough resistances to clear at the current price. Since RSI has taken a hit and indicates a neutral stance of its buying trend, we can expect some more consolidation before expecting MANA to hit a fresh high. $1.80 is a huge support level that wouldn't budge anytime sooner. Moreover, as per MANA price prediction, the support of 200 DMA and resistance of the trend line indicates a narrow zone that can force a breakout. Being a hype and a virtual reality token, MANA can heavily benefit in the short and long term.