EY announced the launch of EY OpsChain Public Finance Manager (PFM). It is a blockchain-backed solution that has been designed to aid the government of countries to enhance their practices for the financial management of public funds.
EY OpsChain PFM facilitates the government bodies to maintain transparency, offers results for citizens that can be accounted for and also keeps track of budgets, expenditures, and results. It uses blockchain technology to tally various programs, where the government expends funds with tangible results, even when the funding passes through different layers of government and public agencies.
EY OpsChain PFM gives clear, precise, and timely data for financial records and accountability. The system boosts administrative productivity by integrating the ability to track capital on a real-time basis and maintaining a single source of integrated financial and nonfinancial accomplishment data to aid in the decision-making process. The base on which the system is built is the EY OpsChain platform.
This software solution has been tested all around the world. In Toronto, the application was tested as part of its ongoing initiative for financial management transformation; it was tested for how it manages reconciliations and interdivisional fund transfers. It was found that with EY blockchain proof-of-concept, the way reconciliations and interdivisional fund transfers are done, could be transformed. This will lead to an increase in the level of transparency among divisions and thereby, help facilitate an efficient and effective generation of the financial and asset performance report.
Mark MacDonald, Leader of EY Global Public Finance Management, said that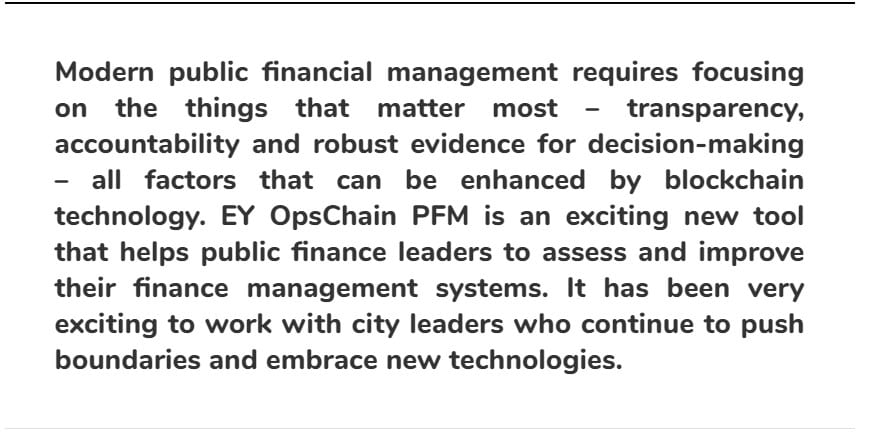 The most sought after technology is now being pursued by companies all over the world. A consortium of seven prominent companies of South Korea is coming together to launch a mobile identification system that is based on a blockchain solution. The firms involved are Samsung Electronics, LG UPlus, SK Telecom, KT, KOSCOM, Woori Bank, and KEB Hana Bank.