Banks are increasingly implementing blockchain technologies in trade financing and this move is likely to increase the global trade volumes by $1.1 trillion by 2026, as per the trade experts. The partnership of CIMB bank Singapore and iTrust for completing their first structured blockchain trade financing transactions on IoT (Internet-of-things) platform is a leap towards that accomplishments (increasing the global trade volumes). CIMB is one of the leading universal banking groups of Malaysia, offering huge banking services to millions of customers settled worldwide. iTrust, on the other hand, is a trade financing platform harnessing the power of blockchain technology, aimed at improving the supply chain visibility and risk management.
The transactions involved financing the dairy products that have been imported to China and are expected to generate transaction flows up to $100 million a year. iTrust uses IoT for monitoring the cargo in transit. By using blockchain technology, the company tracks the data collected by the IoT devices. This way the parties involved with the trade finance transactions are provided safe and secure data that are devoid of any threats of fraud. All the collected data are collected in a distributed ledger for immutability and provenance.
iTrust's CEO and co-founder Lim Chee Kean, in support of implementing Blockchain technologies, commented,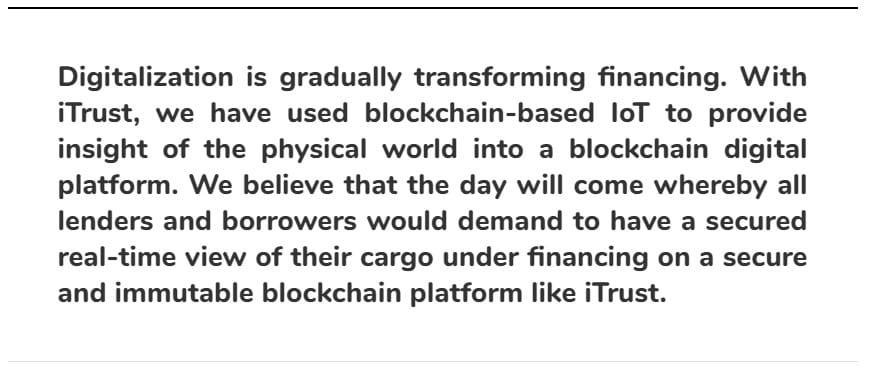 With the transparency and security that iTrust provides for the cargo and the documents, CIMB is also hoping to take a step ahead in mitigating the risks associated with commodity trade financing. They are also thinking of facilitating trade extensions for their customers. To explore and discuss the innovative developments in the blockchain, crypto and finance sectors, several significant cryptocurrency conference and events are held across the world. These events help provide insights and generate awareness among enthusiasts.