Recently, leading digital exchange Huobi initiated the launch of its digital asset services in the Middle East and the UAE with its exciting range of service offerings.
As per the Hootsuite and We Are Social UAE digital report for 2019, around 5.2 percent of UAE residents have some form of digital currencies. The growing interest of UAE residents in cryptocurrencies prompted Huobi to take this move. Huobi Group has associated itself with eminent crypto and blockchain industry professionals to offer committed and high-quality digital asset services to financial investors across the region.
Two weeks back, Huobi Exchange acquired Pantronics Holdings in a 77-million-dollar deal. Precisely, Huobi purchased 221 million ordinary shares of Pantronics holdings at 77 million dollars, by acquiring more than 73 percent shares. By taking over this deal, Huobi planned to go public in Hong Kong by displaying a reverse takeover.
Regardless, Huobi's cloud can be explained as a one-stop custom made solution, which provides white-label digital asset trading by giving access to over 450 plus digital asset pairs in the trading platform. Moreover, it has plans to provide add-ons to the cloud services in the following months.
Founded in China, Huobi is a Singapore-based cryptocurrency exchange. Besides, it has well-established compliance service associates in Japan, Singapore, United Kingdom, South Korea, Australia, Brazil, Canada, and Hong Kong to deliver its reliable and secure digital asset management services and digital asset trading service to its clients in over 130 countries.
Recently, CashU, one of the leading mobile payment providers, initiated its virtual digital assets exchanging on its mobile app powered by Huobi. This permits its millions of users to trade Ethereum, Bitcoin, and other digital assets directly through the smartphone.
According to the co-founder of Huobi MEA, Mohit Davar,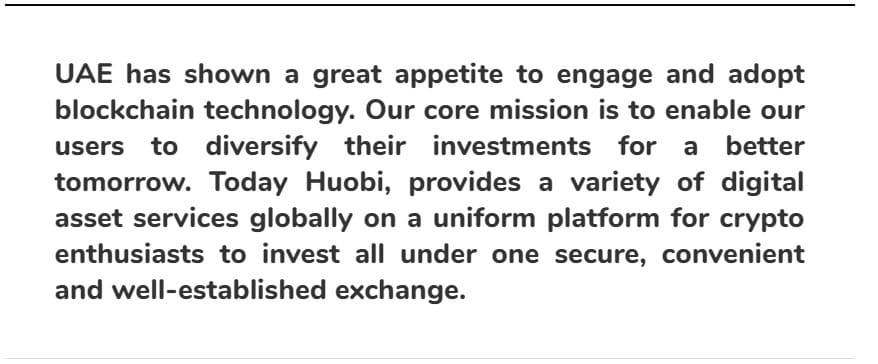 Apart from spot trading, Huobi provides a mix of services to cater to institutional investors.